The Reproductive Health Impact (RH Impact) is so excited for the Annual Black Maternal Health Awareness Week led by Black Mamas Matter Alliance.
In light of the steadily alarming rise of maternal mortality in the U.S., which recent data shows has been exacerbated by the pandemic; and amidst growing cases of clear neglect in care in hospital systems immediately after labor and delivery, BMMA continues to highlight and center culturally-congruent practices with a focus on Black Midwifery care and full-spectrum Black-led Doula care as sound, evidence-based solutions. Most importantly, these are practices and solutions that incorporate the true needs, wants and desires of Black women and birthing people.
Held annually on April 11-17th, BMHW is a week-long campaign founded and led by the Black Mamas Matter Alliance to build awareness, activism, and community-building to amplify the voices, perspectives and lived experiences of Black Mamas and birthing people. (Source: BMMA's website)
Please read more for our slate of events:
Wednesday, April 12th, 2023
Black Maternal Health Advocacy Day | 8:00 am CST | Louisiana State Capitol
Join Black maternal health experts to find out how policymakers can create a healthier state for Black birthing people. Join us for a day of action and advocacy at the Capitol during Black Maternal Health Week.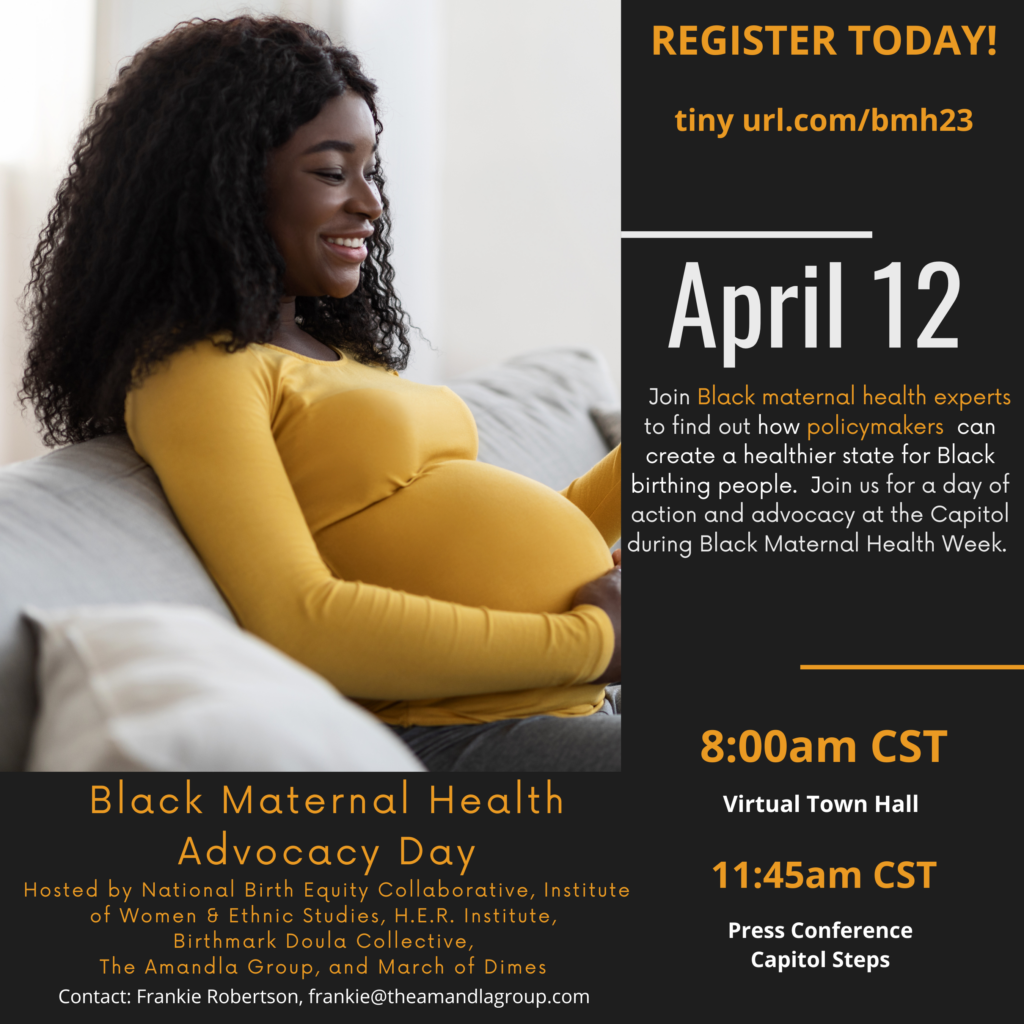 Valuing Black Voices [Virtual] | 3:00 pm ET
A preview into the concept and plan for the Respectful Maternity Care initiative prior to the formal convening of stakeholders in May 2023. This patient-centered measure and framework puts Black birthing people's voices in the forefront to fuse our community's voices into quality improvement within hospital systems moving us closer to a culture of birth equity. Learn about the tangible ways hospitals can review the performance of clinicians to aid in holding them accountable for less than equitable care.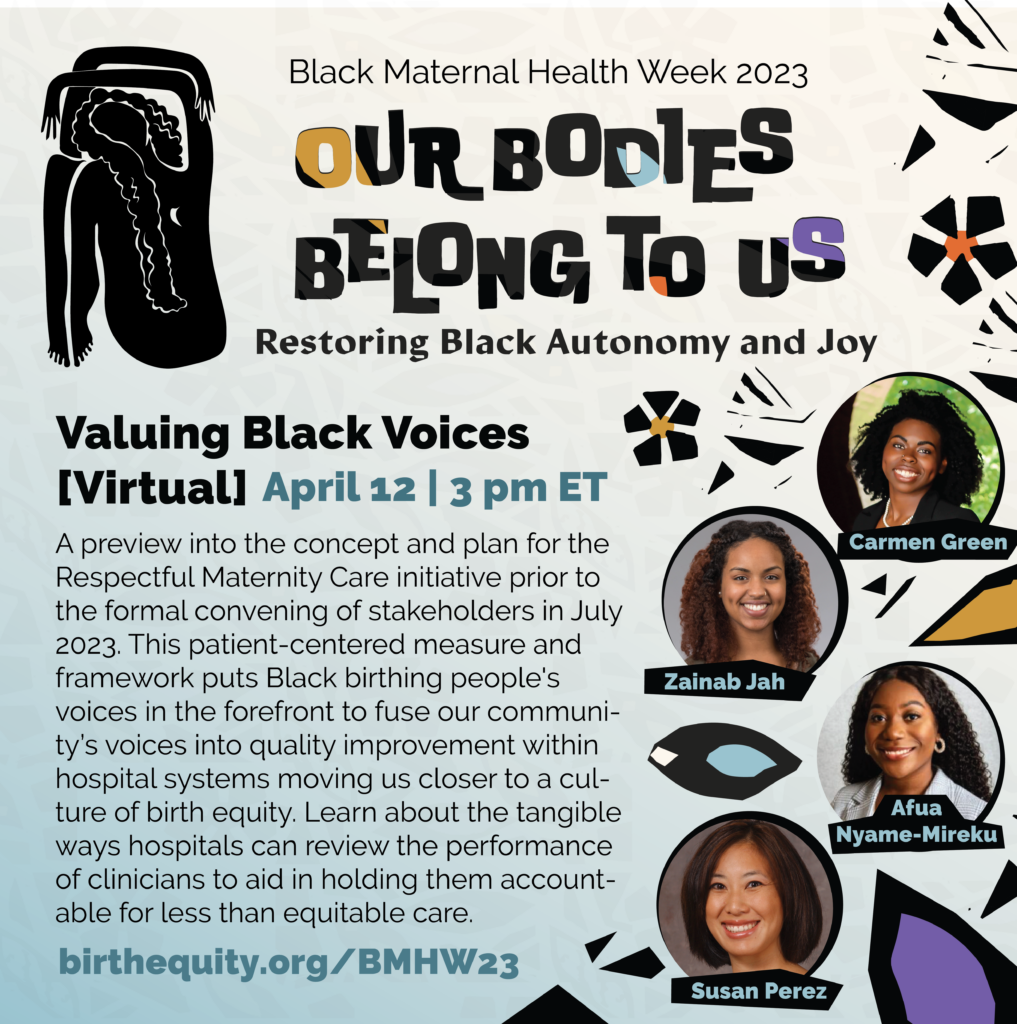 Thursday, April 13th, 2023
Not Without You: How can we learn from each other? [Virtual] | 2:00 pm ET
What would the world look like if we collaborated on solutions to our shared issues decentralizing the U.S. as the prime example? Across the Global South, people of African descent are experiencing the trauma and effects of white supremacy and patriarchy in varying ways. A roundtable discussion with Transnational leaders and organizations discovering the commonalities we share and how we can best work together and learn from each other to further the agenda that all Black mamas, their babies and their villages thrive.
[Language Accessible] This panel will be available in English, Spanish and Portuguese.
No sin usted: Cómo podemos aprender unas de otras?
Cómo sería el mundo si colaboráramos en la búsqueda de soluciones a nuestros problemas comunes, descentralizando EE.UU. como principal ejemplo? En todo el Sur Global, las personas afrodescendientes están experimentando el trauma y los efectos de la supremacía blanca y el patriarcado de diversas maneras. Una mesa redonda con líderes y organizaciones transnacionales para descubrir los puntos en común que compartimos y cómo podemos trabajar mejor juntos y aprender unos de otros para impulsar la agenda de que todas las mamás negras, sus bebés y sus pueblos prosperen.
[Idioma accesible] Este panel estará disponible en inglés, español y portugués.
Não sem você: Como podemos aprender umas com as outras?
Como seria o mundo se colaborássemos em soluções para nossas questões comuns, descentralizando os EUA como principal exemplo? Em todo o Sul Global, as pessoas afrodescendentes estão experimentando o trauma e efeitos da supremacia branca e do patriarcado de várias maneiras. Uma mesa redonda com líderes e organizações transnacionais descobrindo as semelhanças que compartilhamos e como podemos trabalhar melhor juntas e aprender umas com as outras para promover a agenda de que todas as mães negras, seus bebês e suas aldeias prosperem.
[Idioma Acessível] Este painel estará disponível em inglês, espanhol e português.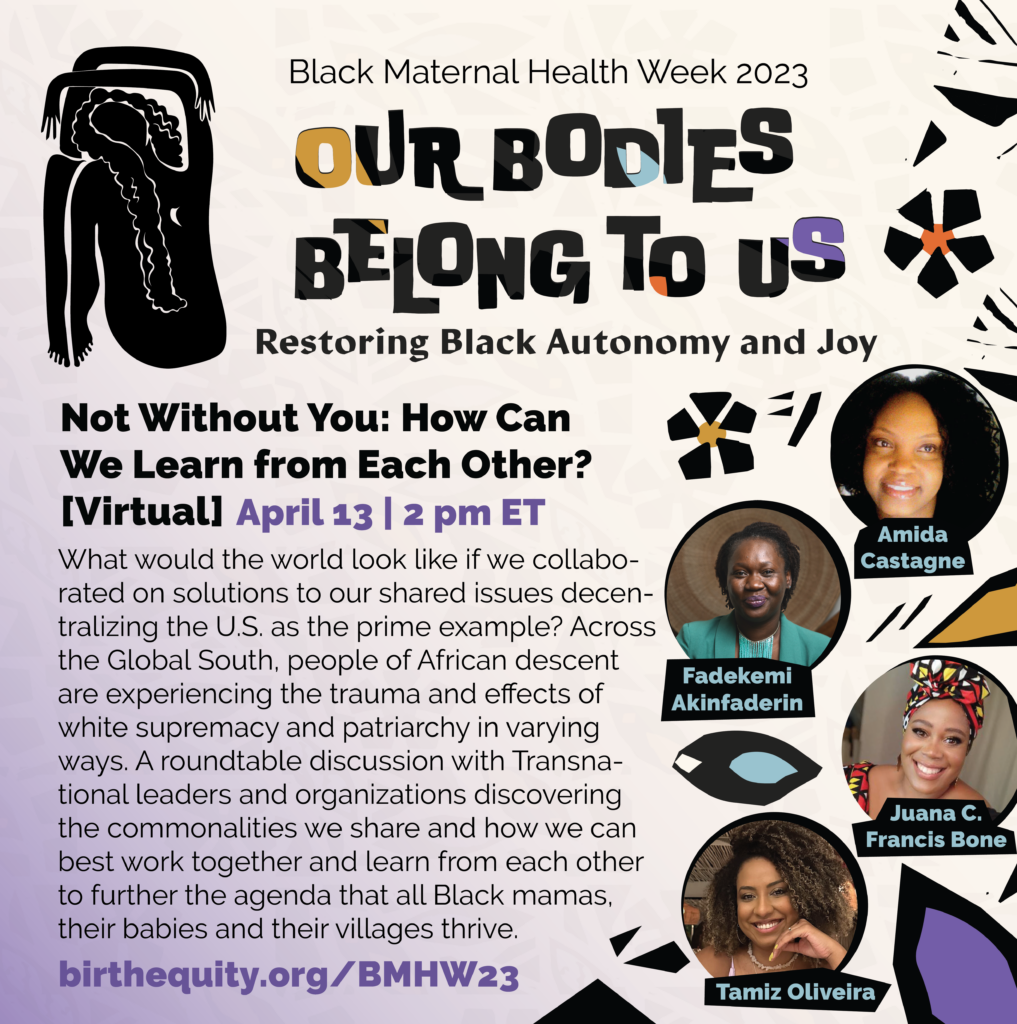 Monday, April 17th, 2023
The Time Is Now: Lessons from Roe era in Real-time | 3:30 pm ET | Washington, DC
The fight for personal bodily autonomy is deeply rooted in the continued trauma that Black and Indigenous communities experience because of white supremacy and patriarchy. Hear about the urgency for sustainable policy changes to advance and protect maternal & reproductive health and create an environment where all, but especially Black families, can thrive. This networking event will feature remarks from current politicians fighting for birth equity and reproductive rights, community partner organizations, maternal health advocates and RH Impact staff.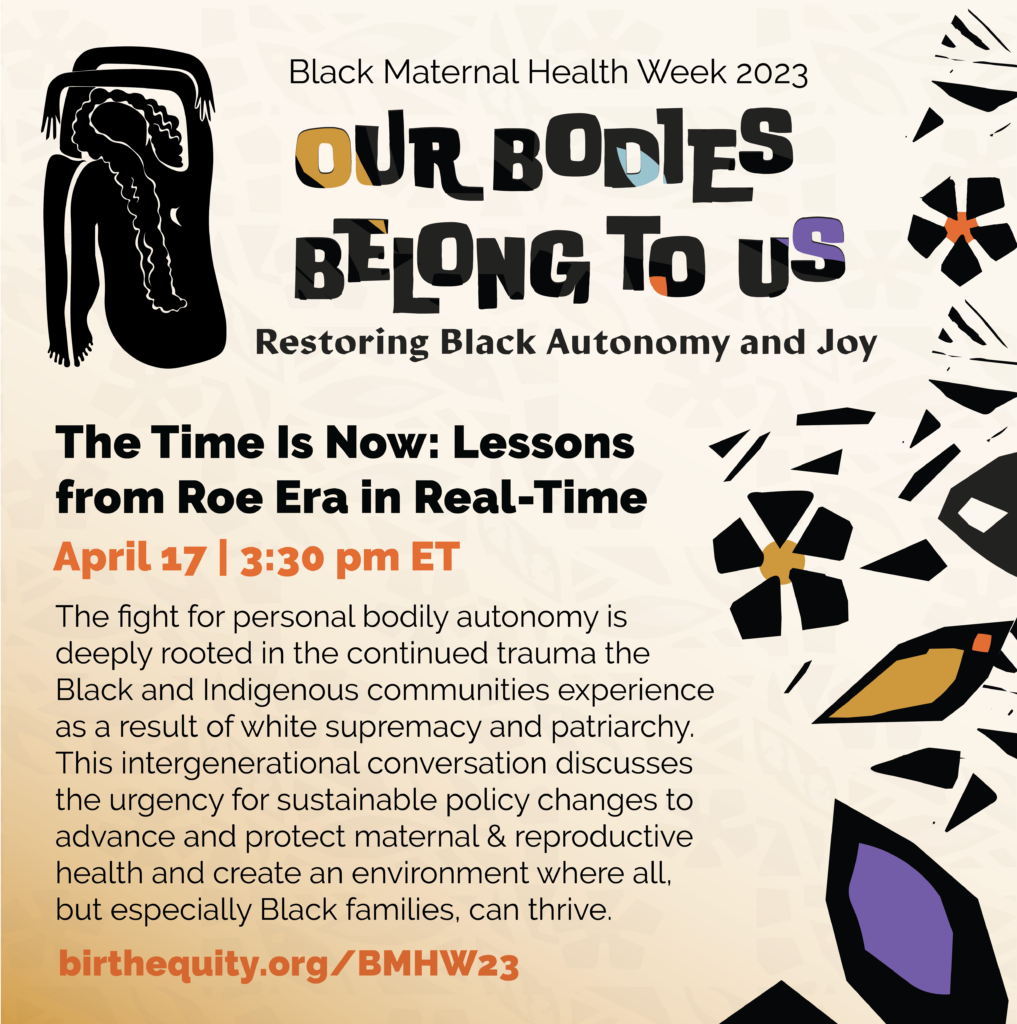 Birthing Justice Film Screening and Panel Discussion | 5:30 pm CST | Claiborne Building-Louisiana Purchase Room